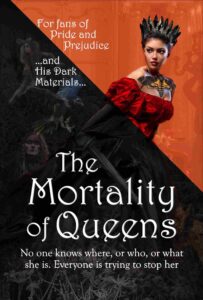 The Mortality of Queens A Historical fantasy
Chapter 1 – Death of the Borderer
Arthur
≡
Umbra of note
Amorrie and her human ally Arthur
Brughe and his human ally Hurting
Muscari and her human ally Viscount Exeter
Charon the Borderer and his human ally the Countess of Alnwick
≡
It was his fourth call since he had begun to ready himself. Damn the girl. She never came on his command. 'Amorrie, do not make me summon you here. I warn –'
'Naked.' The word flitted into that portion of his mind she was wont to inhabit.
He did not believe her. 'I do not care if you are at your toilet. If you are not in this room upon the moment –'
Her sound came, a lost breath entering a catacomb. A wrinkle creased the candlelight. He spun away from his dressing table, for she rarely ventured close to his mirror. A misty mouth of darkness swelled upon his crowded drawing desk, a swamp of unwashed pots, pungent scents and oily cloths where wooden brushes rose up like hunting herons. The mist congealed where the shadows congregated, consuming any lingering light, and there she was, half-sitting, half-sprawled on top of his rough sketches for the portrait of Countess Harrington and Scampion.
'By all the Saints, Amo… you are naked.' He threw a crumpled paint rag at her. It landed close but she didn't move to claim it. The velvety dark earth scent of her world had entered with her.
'Cover yourself,' he averted his eyes. 'Get you dressed; in finery, mind. We are out within the hour. Have you your finery?'
'No.'
Though he had quickly turned away from her unsettling female form, the vision of her small exposed body dawdled in his mind. Shocked at what he recalled, his gaze jerked back. Crimson smudges daubed her pale features and its stain ran over her hands. Drops of the taint initialled her naked chest.
'Is that blood? What is the matter with your leg?' It was misshapen, and she nursed it with both hands. 'Gods, you have broke it.'
Not two hours since, he had clutched at his own leg after a violent spasm of pain that he had put down to cramps.
'It mends.' She nurtured it purposefully, concentrating her will and forcing energy into it. 'You will insist on calling me at the most inconvenient of times and from uncommon situations.'
'What is it you do over there to arrive in such a predicament?'
'Survive.'
A tawdry pile of clothes, rags really, had trailed her into his studio. They were strewn about her like entrails; bedraggled, bloody and riddled with sand.
'Oh it will not do, Amorrie,' he almost sobbed. 'We have an invitation, fresh delivered, to one of the most esteemed addresses in all London and you are not even clothed fit for the parish poorhouse. I may as well have a Portsmouth Poll upon my arm. Conjure your showiest garments, here, now.'
'I have not a whit of strength left for conjuring.'
'We have a party to attend.'
'I abhor those. You know it.'
'You must accompany me, and you know it.' He adjusted a silken blue cravat in the candlelight in front of the mirror.
'Find more agreeable garments if you can and be quick about it. A carriage comes for us within the hour.' He shrugged on his new double-breasted frock-coat. 'Be sure and wash all that blood away.' He stopped, wondering whether it was wise to ask: 'If it is not yours, then who–'
'It is gone, see.' She had smeared it over his painting cloth. 'My leg knits a little.'
He gave his cravat one final plump before turning to find her half standing, using a stick of his charcoal to steady herself. Dressed now in her rags, she dragged a tiny barely-toothed comb through sand-encrusted raven tresses.
'Never have… You…' The vision of her: pathetic, vulnerable and innocent of the world, made his heart brim, so for the merest moment he forgot all the wilful torments she inflicted on him. 'Oh, Amorrie, you will be the death of me.'
'I intend it so,' she said, snapping the spell, and reminding him that his life was mortally entwined with hers. She treated her own survival as if heedless of this fact.
'And you will sink my career far sooner.'
'I'd end it tonight if only I had power here.'
'Truly, you have that power. That entrance was morbid, even for you.'
'Do not be so thistle-ish. I'm here, aren't I? Where's it we must attend?'
'Oh, you will not believe,' his voice a trill now, his anger vented, 'we are both summoned, no yet, commanded, by the noblest lady…'
≈
Their carriage joined a queue halfway round Marksfayre. Light, some from the clean-burning lamps of Monsieur Aimé Argand, paraded out from the porches of the stylish five story town-houses that bordered the square. The probing fingers of illumination burnished the sheen on the stamping horses, awoke carved adornments upon the carriages and sparred with the stretching vastnesses of the eight majestic chestnut trees that dominated the centre of the square.
His head lolled out of the carriage window, gawping like some wanton bawd at the splendour of the scene; drinking in the rich promise the evening held for adding to his small list of commissions.
'There's the Lady of Megginch. She arrived on Tuesday's morn tide upon the galleon Salamander of Leith from Highlands. Her Umbra is Rannock. He's striking; a Henkie. Have you ever met one?'
Amorrie scowled from his lap. He wished she would try more. The girl was his handicap and, far too often, his shame.
'Will there be Catholics?' She soothed her hair, which was agitated and thrummed imperceptibly. She'd told him it was restless and had once tried to escape while she slept.
Catholics had held an unfathomable fascination for her since he had told her of the London riots and marches against popery he had witnessed as a child.
'No, Amorrie, that is most unlikely, and you are not to suggest such a thing to another Umbra.'
At last his carriage lurched to a halt in front of a short wide stair before two ornately-glazed doors. One was held ajar by a doorman, a slave captured from the Africas. Another man, similarly spruce in the season's favoured chalk-blue livery, whisked open the door of their carriage.
'Who should we say, sir?'
'Tenebris,' he said, 'Arthur Tenebris.' The doorman cocked his head as if to enquire whether there was any more to Arthur's title. 'Just plain Mr Tenebris.'
'I await your Umbra's name, sir?'
'Oh yes, sorry, and Amorrie.' Arthur popped the girl into a wide pocket on the front of his frock-coat, tailored for her accommodation. She slumped down untidily, grumbling.
The doorman whispered instructions to a small urchin clad in a military style jacket tied by a sash. The boy raced up the stair, all self-important urgency to deliver his message.
The herald boomed out, 'Mr Arthur Tenebris and Amorrie,' as they entered. No heads turned in their direction, no conversations stopped.
Arthur's gaze swung from one famous face to the next. He recognised many of the Umbra from their illustrations in The Book of 500. 'There, that's the Drowned Lady. She attends with the Sailor Prince,' he said. Amorrie yawned from inside his pocket. A small crowd surrounded the Prince, who would be regaling them with tales of sea battles in the Indies and of his especial friend, Captain Nelson.
The Drowned Lady was daringly attired in a sparse mer-battle tunic in grieving green. Arthur knew it as one fashioned from moray skin, for she had worn the same in the illustration by Reynolds in The Book two years since. A ceremonial trident swung from her belt as she stood on tiptoe to whisper in the Prince's ear from a perch by his collar-bone.
'The Chancellor of Balliol is with the Prince. He's Master of Umbra Magicks and Linguistic Studies. No longer at his peak but still he writes for The Book. His Umbra, Dawn Withheld, will be with him – though I cannot espy her for the moment. They say she is Mistress of all Kernow's Nymphs. Surely, Amorrie, you must know some of these ladies – they are from your world after all.'
'I do not play well with Nymphs.'
'And, there, Hilltop. I think he's a Spriggan warlord. He's Umbra to that notorious courtesan, Bexie Pallister. You'd like her. Gods, Amorrie, a quarter of The 500 must be in this reception room.'
'You 'n your ratted book,' her head briefly surfaced. 'And there are not yet eighty in this room.'
'There are still so many I know by name alone, so many I needs must know better.'
A young gentleman entered the hall and a hush claimed the room. The herald had yet to make any announcement. Faces turned, knots of young ladies moved closer, ceased their prattle and blushed prettily; older ladies nudged one-another and gossiped behind raised fans.
Arthur did not recognise the gentleman from The Book, but knew he must be from a pre-eminent family.
'…£8,000 a year,' came a voice close to Arthur.
'Unmarried still?'
'Surprisingly, though some scandal…'
The herald waited until all the company's eyes rested on the newcomer, before: 'The Viscount of Exeter and the Umbra, Muscari.'
Amorrie's head bobbed from his pocket.
The Viscount stooped low in an extravagant bow and a small woman dressed all in blue-black crow feathers burst from a slitted hood in the back of his garment. She thrust forth two limbs so covered in feathers that they may have been arms but could have been wings. Both held their pose a moment as applause rippled through the room.
The hostess, Lady Rochester, sent her stepson, Lord Strathearn, over to greet the new guests.
'So that is Muscari,' said Amorrie.
Arthur stared down. 'You know her?'
'By name alone. She is reputed to be venomous.' Amorrie pointed, 'Look, in her hair.'
Arthur was close enough to see a hair grip and then some imperceptable movement, 'What is that?'
'Her wolf spider.'
'No matter. Viscount Exeter will surely be the next gentleman of quality to rise to The 500. He is of an age to be elevated. He will want suggestions and sketches in readiness. We must make his acquaintance tonight for I doubt another chance will present itself.'
'Muscari's ally is coiled,' said Amorrie with rare interest, 'primed like a ripe furze seed pod.'
As soon as Strathearn left the Viscount's side, Arthur stepped forward with a deep breath and deeper bow. 'Forgive my disturbance, sir, but I would introduce myself. I am an artist and you, being among the most gracious in the Kingdom, and near twenty-five, must surely find yourself in the next edition of The Book. You are thereby in need of…'
As Arthur lifted his head, he saw the Viscount staring over him towards another group. His plea petered out and the Viscount strode away without acknowledgement. Only Muscari, now perched upon her gentleman's shoulder, a feathered limb drawn coquettishly across the lower half of her face, glared back at Arthur, still floundering mid-bow. Amorrie stuck out her tongue at the departing Umbra, adding disgrace to his humiliation. 'While our documents, once written, are enshrined in the moment, points captured and nailed down, unchanging; the Treaty, written in Hedge evolves with the passing years.'
'Clauses extend with the seasons, flourishing passages endure the trim of winter, new appendices flower forth on summer's quill, redundant points wilt in the autumn cull. It no longer says what it did, no longer binds what was bound.'
Crime, Contemporary Fiction, Fantasy, Young Adult, Humour, Non-fiction