Shona thinks she shared a bed with a killer
And that he's marked her for murder
The truth... is far, FAR, worse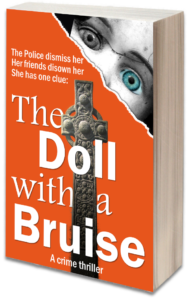 A crime thriller by J. L. Dawn
"More twists and turns than a martial arts class"
 "Read in one sitting – complex and intriguing with a terrifying villain"
after an ill-fated party where she was drugged and attacked.

An anonymous text arrives. It shows the same bruise on a headless, handless, still unidentified, corpse of a woman.
Was her attacker the murderer?

The dishy police inspector dismisses her as a fantasist.
Angry that no one believes her, Shona takes to social media.

She investigates, and discovers a woman who went missing from her village three months ago.
"The narrative cracks along. What makes this book special is the author's sharp, contemporary voice."
"I got through a lot of lockdown books, and this is the one that did it for me."
Crime, Contemporary Fiction, Fantasy, Young Adult, Humour, Non-fiction