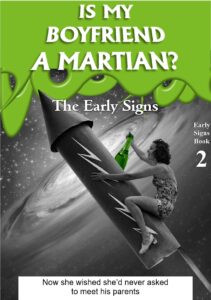 Coming soon: the Early Signs series
Ask yourself: Could my Wife be a Zombie? And if so, did she just marry me for my brains?
Is my Wife a Zombie? Is my Boyfriend a Martian? Is my Husband a Werewolf? Is my Cat an Alien?
These are books you NEED to read, because if the answer to any of these questions is YES, the sooner you find out, the more loved ones you may be able to save. Each book illustrates the tell-tale Early Signs you need to look out for. Find out before it's too late!
The series is coming soon but if it's already time critical in your household you need to click on the button below.
We're putting together personalised versions of the Early Signs books. We love to know what you think. To check it out click here
Crime, Contemporary Fiction, Fantasy, Young Adult, Humour, Non-fiction